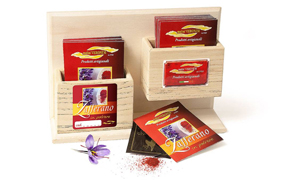 INGREDIENTS:

- Rice carnaroli, 320 gr.
- Butter, 60 gr.
- Hot Beef broth, 0,5 Liter
- White wine, 1 glass
- Onion, to taste
- Parmesan cheese, 150 gr.
- Saffron, 1 sachet



PREPARATION:
Heat the oil in a frying pan together with the butter, add the onion and garlic and fry, stirring often for about 4 minutes, or until soft and tender but not coloured.
Add the rice and stir to coat in the oil then cook briefly, stirring constantly until translucent.
Add the white wine and cook, stirring constantly, until all the liquid has been absorbed.
Add the beef broth. Add the saffron, stirring well to combine.
Bring the mixture to a boil over medium heat then reduce the heat as low as possible. Simmer gently for about 20 minutes, or until the rice is tender and the stock is creamy.
Add the parmesan cheese, allow to heat through, if necessary add a little bit of salt and serve immediately.